As part of my evolving productivity practices, I turned to physically keeping notes as I kept hearing that cognitive studies proved that they assisted in the retention of the information that was written down. This was important for me since I wanted to make sure I was adding a component to my workflow that was beneficial and something that I would stick with as well. The solution ended with me keeping a regular series of Bullet Journals to track the critical needs of my GTD Journey.
What is Bullet Journaling?
Wikipedia would classify it as a method of personal organization developed by designer Ryder Carroll. The system organizes scheduling, reminders, to-do lists, brainstorming, and other organizational tasks into a single notebook. The name "bullet journal" comes from the use of abbreviated bullet points to log information, but it also partially comes from the use of dot journals, which are gridded using dots rather than lines.
This methodology is very versatile allowing you to be creative with how you want to progress in tracking the details that you want to capture. There are a lot of tracking designs for habits and scheduled events like birthdays and anniversaries, just check out Pinterest if you don't believe me. While my sense of the aesthetic draws me into this methodology, it has very beneficial aspects to maintaining the practice within your own productivity system.
I started using this as a means to organize my daily activity with work, planning out my meeting schedules, action items, and goals for the day. It became the basis for my weekly reviews and reflection activity. While my system incorporates the digital as well as the physical components to ensure that I am making the best of my productivity practices throughout my life, this one was special to me in that it allowed an expression beyond the standard formats of journaling and GTD. I leaned into it and have been leveraging this as part of my system for the last four years now.
Notice that I mentioned it is a part of my system and not a replacement or the only aspect that I engage with. Having different parts of the process and workflow for intaking and processing the inputs into my life requires multiple components that work in harmony with each other. Bullet Journaling easily fit into my already established practices and was an easy habit to adopt since the activities I leveraged it for were streamlined by its inclusion.
How can you leverage it for your productivity practices?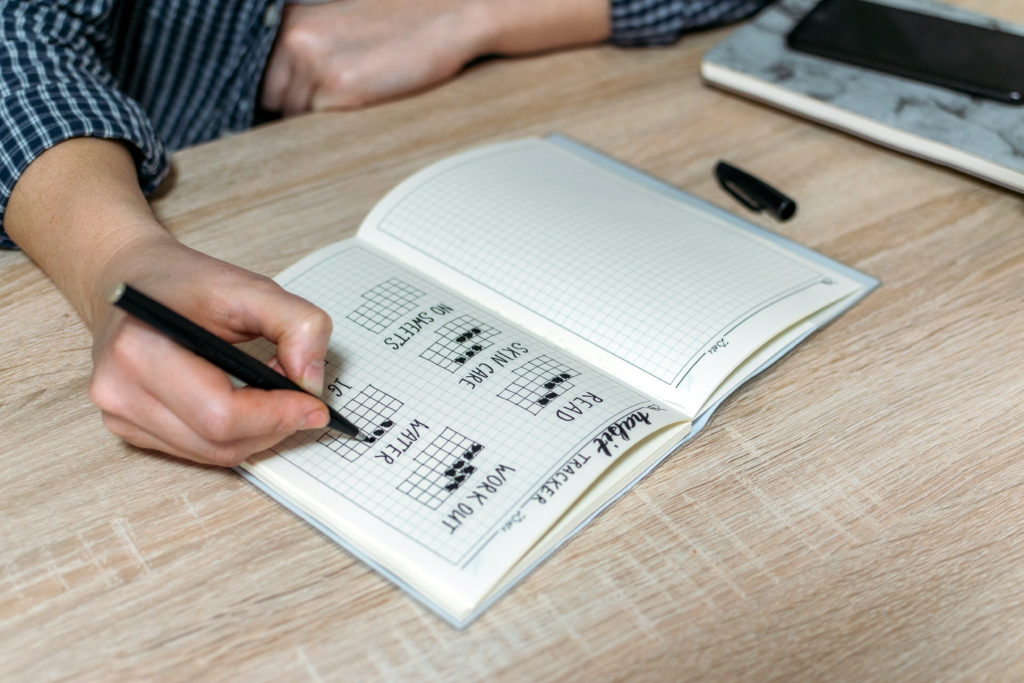 There are way too many options to call out for this, I did say that the methodology was versatile. Instead, I will share some of what I have learned while using it and how I have integrated it into my system.
Starting with routines is a very good way to help you hack your own behavioral patterns, using this as a central anchor for the actions that you want to highlight and promote to yourself. These could be anything from taking breaks during your workday to establishing an action routine that will promote your productivity practices.
I read somewhere and unfortunately, I have not been able to locate that article again about creating and establishing routines for my day to help me get into the proper frame of mind for the requirements of the day. For work, it is setting up my daily goals, processing my latest messages and communication activities, and taking the time to meditate and grab a cup of coffee before it all gets hectic from people needing attention.
Conversely, I have also established an end-of-day routine to help me transition from work mode back to home mode, putting a better boundary in place between the different personas that I need to maintain. The more we blur the lines between work and home life the more critical it is for us to establish our own boundaries.
Keeping in mind the importance of maintaining regular review activities I have been tracking this on a weekly basis. Three separate and important routines that I have tracked throughout my bullet journals.
Schedules and Calendar activities can be redundant in this process but I found the structure better to interface with than looking at the digital screens, only because I could have it in front of me during meetings without having to drag my attention from the notes that I was taking.
Action items, events, projects, and goals easily fit into this as well, especially when leveraging the legend recommendations for tracking the different aspects of the activities that you have to complete. After all, not everything fits well into a basic task list. This classification process allowed me to add context to the methodology without adding overhead to the actual act of journaling my daily activities.
Additional Creative options to help you engage with the process…
For the most consistent of my activities, I have adopted a standard template and format that I find both pleasing and functional. This helps me know what is coming and not spend any additional time trying to process a different layout every time I turn the page. That being said, leveraging creative touches around these templates is a must to bring out the joy of engaging in this process.
I have used everything from colored pens to washi tape, from doodles to full-page art spreads. It is about finding ways to express yourself around the immediate needs of what you are working to keep track of. The most artistic of my functional designs would be around the tracker pages, they are outside of the template standard by design and the easiest opportunity to have fun with a design.
It is not limited to those examples by any means, I have seen watercolor art behind the regular templates, additional creative pages for ephemera and mixed media designs, and a myriad of other creative expressions, it is completely open-ended.
How would you decorate and design your system to drive more engagement in the process and activity on a regular basis? Just think about it.
Enjoyed this Article, We have more, Check out more of our productivity-focused articles, and feel free to share your feedback!